Meet CMCM Member Brian Jones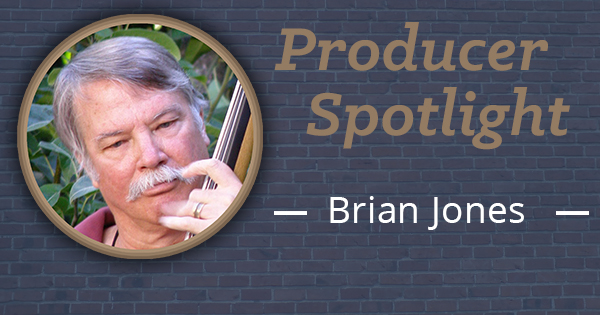 Your Name:
Brian Jones
How long have you been a member of CMCM?
Four years.
The Title of Your Marin TV Series:
Marin Poets Live!
In a nutshell, describe your CMCM series:
Local poets of note reading their works, talking about them, and about their Marin County connections in interview format.
Where were you born?
Oakland, CA
Where were you raised?
Terra Linda (now part of San Rafael)
If you attended college ... What was the name of the school? What was your major?
Cal Poly, San Luis Obispo. My major was Electronic Engineering.
What is/was your occupation? How long have you been in this profession?
Electronic Engineering and later Product Marketing. Many years. Too many, I guess.
What inspired you to produce your own TV series?
I knew nothing about CMCM's facilities and operation until the part-time Jazz group I play in was asked to perform on camera for Marin Artist Showcase.
Mariposa and Jonah served lunch after the shoot and I was talking with one of the crew members and asked if they had any volunteers, thinking I might
Sign up to help. Next thing I knew I was a member, took three courses including the studio course and spoke with my coproducer Neshama Franklin about possibilities for a show for the County Library web site.
It went on from there…
What is your favorite part of TV production?
Being part of a well-organized crew and providing quality spoken poetry to our audience.
Before becoming involved in the series, I knew very little about poetry. That has changed considerably.
What is your least favorite part?
Worrying that we/I in particular might make some grave mistake, like not recording a show by accident. (It's never happened.)
What advice would you give a new CMCM member who wants to produce a Marin TV series?
Become a member and take the studio classes. They are well thought out, and it's a really good way to find out if production is for you.
What was your favorite TV show growing up?
I couldn't say. I watched a lot of TV growing up.
What is your favorite TV show now?
Antiques Roadshow.
When you're not wearing your CMCM "producer" hat, what do you for fun?
Tinker with electronics, including a 3D printer I'm working on. Play Jazz.